Monday, May 30, 2005 I realize it's been a while since my last post, but I've been dealing with a bit of drama the past couple of weeks, and not all that well, I might add. If it weren't for Liz, mostly, I might still be a blubbering mess now. A couple of weeks ago, on my way to church, actually, I was in a car wreck. Nothing too serious, no one was hurt or anything, but my car was totalled. Here's a picture of the "deceased":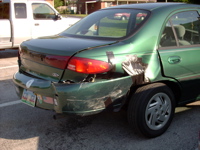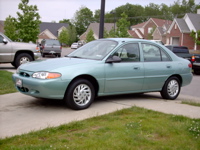 The other photo is the car I bought just a while ago to replace the one that I wrecked. It's pretty much the same car. It's the same model year, but an automatic instead of a stick, and had a couple of bells and whistles that the other one doesn't have, like cruise control. Liz was my negotiation team. She's brilliant with knowing what to offer and what not to take and so on. She's also very good at calming me down when I'd start freaking out about the whole deal.
I said that no one was hurt in the accident, and that's true, to a point. I've had a bit of back pain since, and have been going to the chiropractor a couple of times a week. That's kind of a pain in itself, in that I really don't have time for pain or the relieving thereof, but it's better to get things taken care of now than to have worse trouble down the road, I guess.
So, anyway, that's all I have to say about that, I suppose--I plan to post about how summer school is going here in the next couple of days, and I have a boatload of photos that I should have put up on the fotopage by now. Everything in life seems to have been put on hold while I dealt with the car thing. Thank God that's over for now.
posted by #Debi at 5:10 PM | permalink | 0 comments
0 Comments:

---