Monday, September 13, 2004 Yay! A quiz! I've been over to Rich's site, since I hadn't been in a while. I got the quiz from him, which he got from the Ex-Witch Forum. Here's my results:

Take the quiz: "WHAT RELIGION BESTS SUITS YOU?"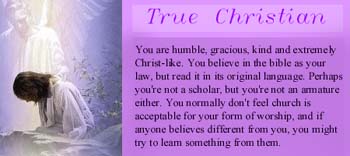 True Christian
You are humble, gracious, kind and extremely Christ-like. You believe in the bible as your law, but read it in its original language. Perhaps you're not a scholar, but you're not an armature either. You normally don't feel church is acceptable for your form of worship, and if anyone believes different from you, you might try to learn something from them.
Well, some of that is true, except that I don't read the Bible in Greek or Hebrew, although I do have a Greek New Testament that I refer to sometimes. I don't know about that "extremely Christ-like" stuff, but I'm trying. (Btw, I think that the word "armature" should be "amateur". Jesus is the armature, in the sculptural sense, anyway. My brand-new, bigass dictionary [seriously--it's got 2230 huge pages printed really small] defines the sculptural sense as "a skeletal framework built as a support on which a clay, wax, or plaster figure is constructed".)
By the way, I'm skipping class today, since I still have this wretched sinus/cold thing going on. I'm gonna try to get a little sleep, then go into work at the regular time. Later!
Disclaimer: The site where the quiz is found appears to be more than a little Wiccan in flavor, so if that kind of thing bothers you, you may want to stay away. Fair warning!
posted by #Debi at 9:33 AM | permalink | 0 comments
0 Comments:

---